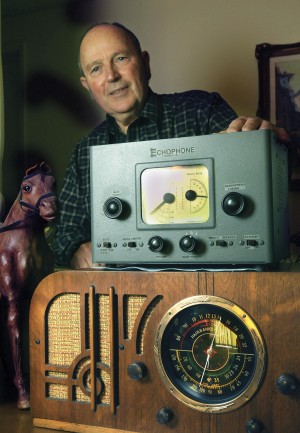 Len Wood/Staff
John Fuhring found an ab
andoned World War II-era radio as a boy in 1958 in a junk pile at the old Hancock Flying Field. It was damaged in a fire
and covered with oil sludge, but he stored it in his parents' garage. He recently
restored it, bringing part of Santa Maria's history back to life.
John Fuhring discovered his love for fixing and restoring old radios in a military junk pile at the Hancock Flying Field more than 50 years ago.
That's where he found the rusted shell of an EchoPhone 1 short wave radio. The metal back was missing and it had been burned, as Hancock began transforming from a flight school into a college during the late 1950s.
Fuhring said he brought the radio — which was a popular morale booster for WWII troops — to his nearby Santa Maria home where it sat in the garage until a few years ago. Then Fuhring got the "radio bug again," and decided to fix it up.
"What a wonderful high tech piece of junk," said Fuhring, 66, who added that he began tinkering with his first radio in the fifth grade. "All of a sudden, I fell back into it. Yes, I was hooked. And it works great."
Over the last few years, Fuhring has added to his small collection of working, restored and antique radios. His pieces range from a 1936 wooden Fairbanks Morse that folks listened to during the Great Depression, to the EchoPhones that cost GIs a month's pay of $20. He even has some that are homemade.
But Fuhring does really not consider himself a collector. Instead, he's more of an admirer of the early radios that he says represent stages of history and allow his imagination to thrive.
"Radio has always allowed me to create a really vivid image ... it's like special effects," Fuhring said. "They are as vivid as any movie today. There is just something amazing about the sounds coming from those wires."
Fuhring does not have cable television and does not plan on getting it. He said he believes that everything on television today was on the radio first. And yes, he says, it was a heck of a lot better.
A radioman in the U.S. Navy, Fuhring seemed to always have a knack for his hobby. He retired as an electrical engineer who worked on the Delta and Atlas space boosters at Vandenberg Air Force Base for the majority of his career.
Fuhring also spends time listening to radio programs from around the world on his short wave radio, something he did as a boy when he
enjoyed the World Series and various old-time comedy shows. Back then, he just had AM and two forms of short wave to play around with.
"It lets me slip back in time," he said.
It's always easy to find Fuhring. When he's not taking care of his horses or volunteering at the Natural History Museum of Santa Maria, he's usually in his workshop testing, fixing, building or checking out old radio schematics on the Internet, something he claims is "invaluable information" that's available to all.
Fuhring's radio website,
www.geojohn.org
, is where he can always be found. Last month he received 3,500 hits, and they weren't all about old radios. Many of the responses have come from countries where the U.S. military was stationed. The soldiers, whether on a remote island or elsewhere, used their short wave radios to listen to Tokyo Rose and other music from back home. Many radios were left behind.
"If you can name a country in the world, I've had visitors from it," Fuhring said. "Well, except North Korea."
Read more: http://santamariatimes.com/news/local/santa-maria-radio-man-preserves-history/article_13bb61f4-5949-11e1-bbbc-0019bb2963f4.html#ixzz1moqdKrZr
Via Yimber Gaviria, Colombia